Dr. Earth Bud & Bloom Booster (3-9-4) 50#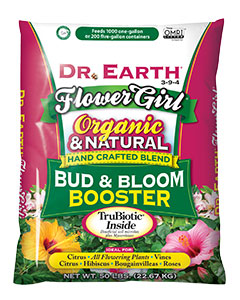 Dr. Earth Flower Girl Premium Bud & Bloom Booster (3-9-4) produces remarkable results! This 100% organic and natural blend builds soil health, promotes superior buds and blooms with larger and more abundant plant production. Nutrients are released quickly, yet continue to feed for several months. Ultra-premium scientific formula provides optimum levels of primary, essential plant nutrients. TruBiotic ensures organic nutrients are thoroughly broken down and then released in the soil for plant roots to absorb them as they are needed, contributing to drought tolerance, enhanced nutrient availability and increased plant performance. Ideal for all flowering plants, vines, citrus, Hibiscus, Bougainvilleas and roses.

This product is CDFA OIM registered & OMRI listed.
Available in: AZ, CA, ID, NV, OR, UT, WA