Green Planet 1 Part Medi One Kit each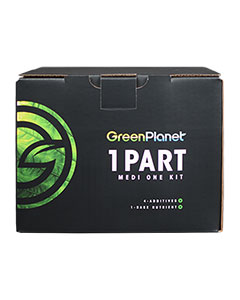 Our 1 Part Media One Starter Kit comes with the nutrients you need to grow from the seed to harvest. Medi One is our complete 1 part base nutrient that has a fully balanced blend of all-natural ingredients that produce vigorous growth in the vegetative stage and resinous aromatic flora production in the flowering stage. Massive Bloom Formulation is our premier flowering additive designed to encourage budding, help facilitate bulking and the ripening of flowering plants. Rezin is our terpene enhancer formulated to enhance the natural processes within flowering plants that produce flavor and aroma. Liquid Weight is our blend of simple and complex carbohydrates that support the plant and beneficial microbial life in the root zone. This leads to an increase in the absorption of essential nutrients that help develop impressive aromatic flowers and fruits. Ocean Magic provides a wealth of natural ingredients that support several functional properties such as, rooting, reduction of environmental and plant stress, as well as the increase of overall vitality within your plants.
This kit includes the necessary nutrients to follow the Media One Feed Program. Refer to the Medi One Feed Program for application rates during each week of plant growth for each product.

CURRENTLY ON OR STOP SALE!
Available in: CO, IL, ME, MA, MI, MO, NV, NY, OH, OK, OR, PA, RI, TX, VT, WA